Back to index
"Update On WARD 24 Abrasive Recycler"
by Richard Ward of Richel, Inc., Tallmadge, Ohio
WJTA Jet News (August 1999)
"This has got to be the safest investment I will make this year..." said Chester Hilty, part of the management team of a waterjet contracting company, as they stood back and observed over 250 pounds per hour of dry abrasive pouring into the hopper -- abrasive recycled from sludge that was destined for the land fill.
EasiJet, the distributor of the WARD 24 ( Waterjet Abrasive Recycling Dispenser with a 24 inch diameter screen ) is awash with glowing reports and results gathered from testing the sludge from many different companies. Whether the abrasive is hard crushed rock, or alluvial ( from a river bed and more rounded in shape), the results are consistent. Recycling is going to change the way the entire industry will operate.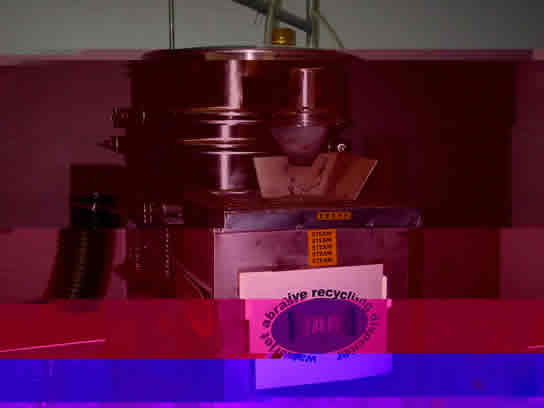 The Ward24 will recycle abrasive and dry it, ready for reuse in about 3 minutes.

Over 600 companies have inquired about the WARD 24 since its launch, with as many as five being sold in one week. This is significant as all sales are conditional on a company forwarding sludge to EasiJet's test facilities, with representatives being present when the sealed containers are opened for the first time. It takes about three minutes for dry abrasive to be produced once the patented sludge removal nozzle is activated.

Nozzle is buried under 12 inches of sludge

The patented nozzle, unlike any other abrasive removal system, works best when buried under about 12 inches of sludge. In other words, the system can be activated at random, once a day or once a week. This leaves the owner free to choose how and when the WARD 24 can be used.

Mobile and compact

The WARD 24 can be mounted on wheels, allowing it to be moved around in a factory from one waterjet cutting system to another. It can be placed up against a wall, or even up against walls on two sides in a corner. The footprint of the WARD 24 itself is about 30 inches x 72 inches. Some additional space is needed for hoppers etc..

Cutting speeds

The consistent response from every company which has had their own waste sludge recycled, is that there is no noticeable difference in cutting speed with the recycled abrasive. Several companies have reported the recycled abrasive appears to cut faster. ABB-IR Laboratories in Michigan has tested recycled hard rock, Barton 80 against new Barton 80, and reported (unofficially) that cutting speeds appeared to increase when using recycled abrasive. Cutting speeds did not appear to slow down when using recycled abrasive.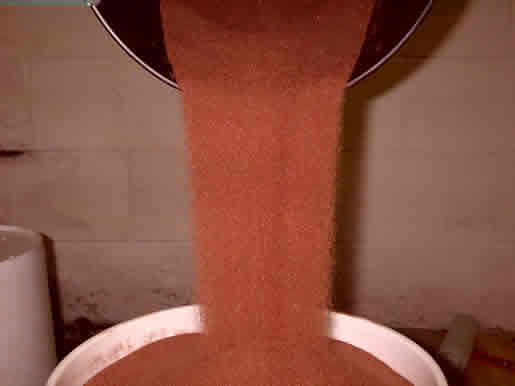 Abrasive recycled using the Ward 24

Quality of abrasive

Analysis of the recycled abrasive has revealed as little as 0.007% metal contaminates still present when using the WARD 24. The actual results depend on many factors, one of which is the residency time the abrasive has on the washing screen prior to being dried. The WARD 24 is recommended to operate at a production of 120 to 150 pounds of dry abrasive per hour.

Amount of abrasive recovered

The percentage of abrasive recovered will depend on many factors, including mesh size of new abrasive, type of abrasive, pressure of operation, orifice nozzle combination and quality of cut. The scalping screen size will determine the size of the final abrasive dried. For example, if a 100 mesh screen is used, all abrasive dried will be larger than 100 mesh. If this is reduced to 120 mesh, the amount of dried abrasive will increase substantially. Only abrasive smaller than 120 will fall through the washing screen to be discarded with the sludge. Screens as small as 250 mesh have been tested. A sieve analysis of 60 mesh abrasive revealed 68% of the dried abrasive was 80 mesh or larger.

One of the largest manufacturers of waterjet systems worldwide has stated they expect the sales of waterjets could increase from an annual growth rate of 10% to over 30%. This is based on the tremendous savings in operating costs gained through the use of recycled abrasive, making waterjet more competitive than ever with traditional heat cutting and CNC machining processes.

WARD 24 at WJTA in August

The WARD 24 will be on display at the 10th American Waterjet Conference in Houston. On Sunday, August 15, a live demonstration featuring a Texas Barbecue will be held from 6:00 p.m. - 10:00 p.m. off site as no systems are allowed to be operated in the hall. Registration to attend the barbecue as well as the live demonstration can be made through WARDJet at 330-677-9100. For more information, call or visit www.wardjet.com.

Back to index